Shopping Cart
Your Cart is Empty
There was an error with PayPal
Click here to try again
Thank you for your business!
You should be receiving an order confirmation from Paypal shortly.
Exit Shopping Cart
"Seek the peace and welfare of the city where I have sent you into exile, pray to the Lord on its behalf for in its welfare you will find your welfare. Jeremiah 29:7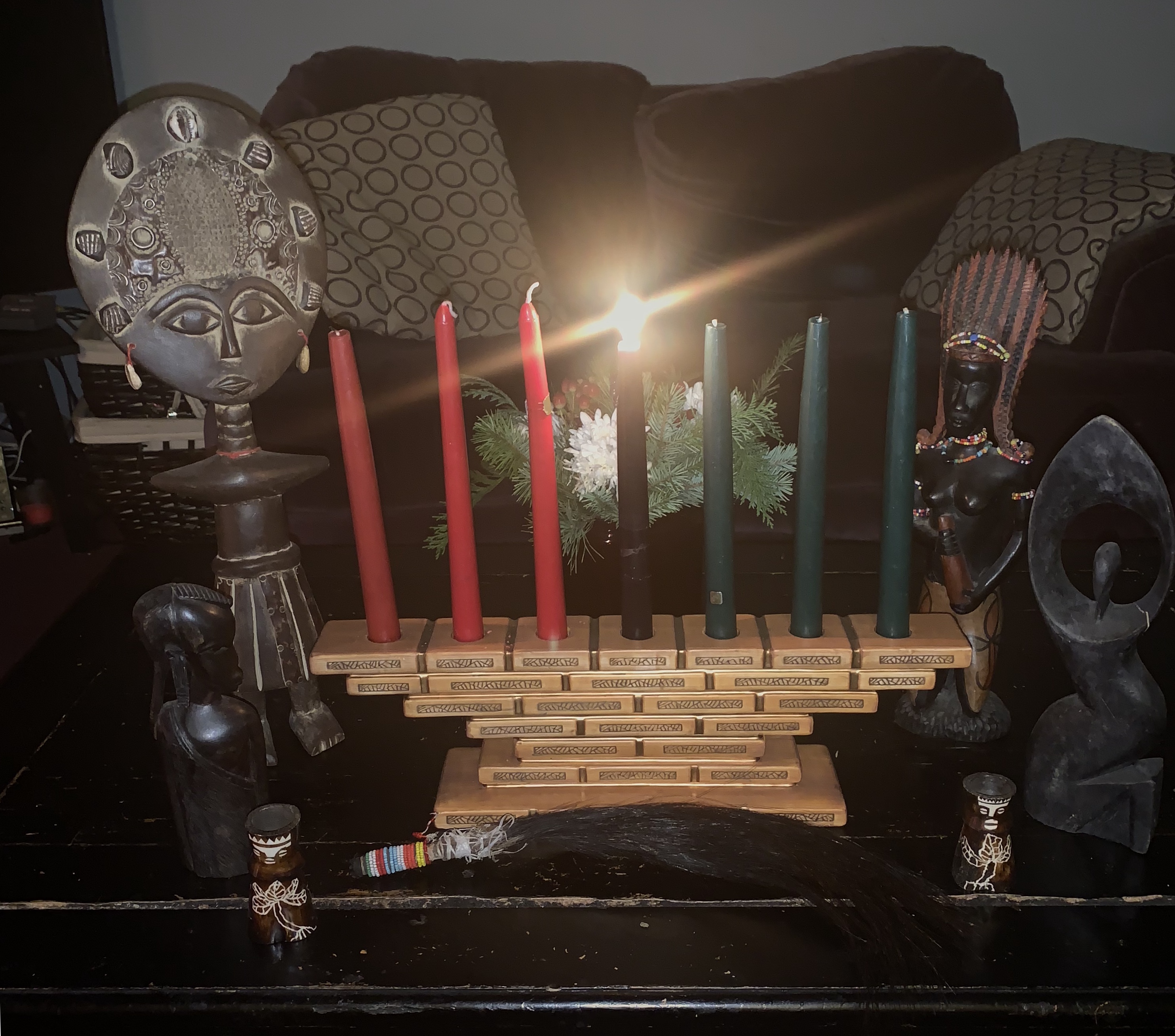 KWANZZA > CHRISTMAS?

Now I know as a pastor this may seem like a rather strange statement. The only response I have to those who may feel that way is… that is great! Why? Because that means I have your attention.
Let me begin by saying that I am a lover of everything Christmas. I love the music, lights, food,family atmosphere, and the way people seem to be just a little nicer to each other most of the time. (Excluding when they are shopping, of course.) I am most of all excited about celebrating the birth of Christ and the Christian belief that God himself put on human flesh and moved into the neighborhood! John 1:14 MSG

COMMUNAL > INDIVIDUAL

However for the last few years I have had the opportunity to do less shopping, wrapping and holiday decorating and have spent more time serving, helping and building relationships in my community during this time of year. It is during the holidays when many of the defensive walls my, tougher to get to know, neighbors put up all year may come down just for a few weeks. I mean, this is the season to be jolly, right?
The principles of Christmas like joy, peace, kindness, family, and giving are usually on full display and well received by almost everyone during this time of year. While this is true, unfortunately, these principles are still extremely individualized so we think about giving individually but rarely consider the communal effects. This is why we flock to purchase gifts for less fortunate individuals, or make meals for the homeless but rarely consider the factors that have led to these needs. We are focused on Christmas as a seasonal fix, which is why most churches ramp up their outreach during this time of year, Canaan included. Don't get me wrong none of these things are necessarily bad, that is not my premise at all. I am glad that the church is able to be a temporary solution during the holidays. But are we truly concerned about eradicating the issues in which we call ourselves being a temporary solution? Or would we rather remain a temporary fix so we can feel useful once a year?

CONSISTENTJUSTICE > SEASONAL COMPASSION

I am especially worried about the image that seasonal giving portrays in communities of color where the Christmas holiday is just a magnified example of everyday realities. When you look at the average minority family during the Christmas holiday, you begin to understand that this time of year, which should bring joy and peace, typically brings frustration and disappointment. Parents are overly worried about providing for their children and I don't just mean gifts under the tree. Students are home from school for two weeks while most parents still have to work. Not only do they have to figure out childcare but the heat and lights are running, extra meals must be provided, warmer clothing is necessary, family may be coming over for the holidays and on top of that gifts are still an expectation even when kids know parents are struggling.(At least that's how it was in my house.)
A few years ago, I made the decision that I would take seriously, for the first time, the Kwanzaa holiday and carefully read, understand and embrace the principles of the Nguzo Saba. I have of course taught on Kwanzaa as an elementary school teacher and even been a part of a school that used the Nguzo Saba as its guiding principles for culture and climate. But just like many others, I felt like it was really just an add-on to Christmas that was not all that important to my family. Simply put, I was wrong and for the last few years, Kwanzaa has had just as big of an impact on me as Christmas.

Everyday since. on the day after Christmas, I have read one of the principles, lit a candle on the Kinara and prayed that God would help me to see how the principle coincided with my Christian call. What I have realized more than ever over the years is that the guiding principles of both Christmas and Kwanzaa MUST become our guiding principles everyday. Christians must learn to take our eyes and hearts of our individualistic desires long enough to see our negligence towards the communal aspects of our faith. Kwanzaa reminded me that if our church helps families have a Merry Christmas and does little in ensuring those same families won't need us next year to do the same thing, then we have missed the mark.
CHRISTMAS + KWANZAA= IMPORTANT

I am not naïve, I know next Christmas and every Christmas after that there will be a need to deliver gifts for children of incarcerated men and women from our community. However, Kwanzaa reminds us that all year long we should be a part of the fight to keep our men and women out of this predatory system in the first place. Next year, we will again sing Christmas Carols for our neighbors with the Chicago Children's Choir. However, Kwanzaa reinforces that we should also sing songs to celebrate our history and the life of great leaders black leaders which we will bring the choir to do this coming February. Christmas reminds us of all that is good about God and humanity. Kwanzaa reminds us that it takes work to see that good perpetuated on a consistent basis.

As a Christian community developer, I feel like I immerse myself in the best of both worlds each year. I have celebrated the abiding principles of Christmas and also been enlightened and challenged by the collective spirit of Kwanzaa. When I think of the year round struggles faced in our community I can't help but be inspired by the principles of both Christmas and Kwanzaa and challenged to truly incorporate them into my everyday life.
So, whether it is because I am still allowing the principles of the Nguzo Saba to permeate my thoughts, if it is the newness of the celebration in my home, or just the fact that I have been called by God to serve neglected neighborhoods. I can truly say that while Kwanzaa and Christmas are a necessary part of my growth each holiday season. Once again, this year Kwanzaa may be more important for me than Christmas.
The seven principles of Kwanzaa are as follows:
Umoja (Unity): To strive for and to maintain unity in the family, community, nation, and race.
Kujichagulia (Self-Determination): To define ourselves, name ourselves, create for ourselves, and speak for ourselves.
Ujima (Collective Work and Responsibility): To build and maintain our community together and make our brothers' and sisters' problems our problems, and to solve them together.
Ujamaa (Cooperative Economics): To build and maintain our own stores, shops, and other businesses and to profit from them together.
Nia (Purpose): To make our collective vocation the building and developing of our community in order to restore our people to their traditional greatness.
Kuumba (Creativity): To do always as much as we can, in the way we can, in order to leave our community more beautiful and beneficial than we inherited it.
Imani (Faith): To believe with all our hearts in our people, our parents, our teachers, our leaders, and the righteousness and victory of our struggle.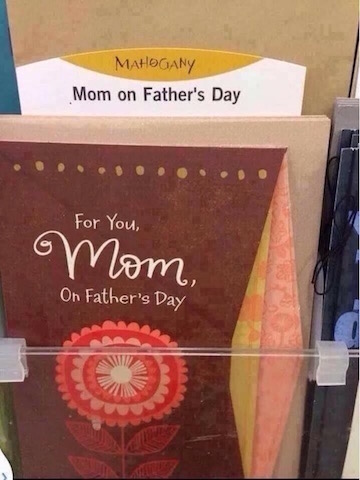 THE HALLMARK PROBLEM
Let me begin this conversation by stating that a single mother raised me and that I have a great relationship with my father even though, for reasons beyond my control, he could not be an everyday presence in my life growing up. I was deeply affected by his absence and have had to work through my own issues as I struggle to be the best husband and father possible. I love my Mom and believe that she had to be twice the mother, than was to be expected, due to our circumstances. In my opinion, being twice the mother is extremely honorable and should definitely be celebrated, however, it does not make you a father. I often walk through the greeting card section of various stores around Father's Day to see how big the display will be or if the card aisle is nearly empty the way it is when I am trying to find a card on Mother's Day. Usually, I have my pick of cards because the aisles are still well stocked even though the selection is considerably smaller. This year as I perused the aisle I came across a card that instantly infuriated me. After carefully looking it over I realized my issue with this card was deeper than the sentiment behind it but also the incorrect and incomplete narrative it perpetuates about fatherhood, motherhood and the value of black life. (Disclaimer: After visiting their website I did find that Hallmark discontinued the printing and shipping of the card in 2014. The card I saw must have admittedly been a straggler. Here is a
link
to their corporate statement.
MOTHERHOOD IS EXCEPTIONAL
I want to begin by pointing out that as the product of a single mother I believe motherhood should be celebrated. Our mother's are the holders and nurturers of life. Even for women who may never experience childbirth (I would like to say I see you) the ability to nurture and sustain life is a gift available for any woman who takes up the mantle. As the product of a single mother and a bit of a Momma's boy, I would like to say that I believe motherhood should be celebrated, however it is also often idolized. As a society, we have fallen prey to the notion that fathers are expendable and then continue to wonder why many fathers are living into the expectations. I often do a training activity where individuals get in a circle and place labels on the foreheads of others in the circle. The group is asked to plan a community barbecue while treating one another as the label on their head. Some labels are perceived positively and others negatively. What happens is usually one of two responses either the individual completely rebels against the label and continues to participate fully in the planning or they live into the label and participate only as much is expected.Sometimes they even leave the group in frustration. Real life labels are no different; people will either rebel or most likely live into them. Mothers are celebrated, as they should be, and are given the label of exceptionality however, even on the day set aside to celebrate them, fathers can often feel labeled as expendable. 
FATHERHOOD IS EXPENDABLE
The absence of a father and the effect it has on children has been well documented. Statistics show that a child who is raised without a father is more likely to end up in a marginal society role and to struggle as an adult. According to the US Census Bureau, children in father-absent homes are almost four times more likely to be poor. Many men who have grown up without fathers find themselves passionately trying to break the cycle for their families because they know that fatherhood is not expendable. The sentiment this card shares is no help to a father battling the uncertainty, insecurity and fear of trying to do something he never saw modeled. It reinforces for him that even if he gives up and walks away everything will be fine because Mom can just fill his role. I don't believe mothers truly believe this but the narrative is still perpetuated. Once again, let me say that being twice the mother is honorable and necessary but it does not make you a father. Rather than slighting all of the fathers and father figures who are involved in children's lives by taking the one day set aside for fathers to celebrate mother's again, we should be celebrating the uncles, brothers, grandfathers, stepfathers, godfathers mentors, teachers and other father figures that have stepped up in the absence of biological fathers. As a majority African American church, this is how Canaan decided to celebrate the fathers and father figures in our community; we would never accentuate negative family aspects on a day to celebrate, to us that is a form of exploitation.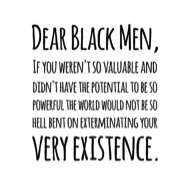 BLACKS IN THE "HOOD" ARE EXPLOITABLE
Of course, many will wonder why I am making this about race when it is just a Father's Day card. However, I need to point out that this card is a part of Hallmark's Mahogany line which is described on their website as cards, ornaments and gifts that honor and laud African-American traditions and authentic culture. Let me begin by saying statistics definitively prove that the rate of fatherlessness in the African- American community is higher than in other communities but it is far from only a black family issue. According to the US Census Bureau 67% of black children, 53% of Native children, 42% of Hispanic children, and 25% of white children are all living absent their biological fathers. As do most of you, I personally know many children (and adults) who struggle with Fathers Day because of the absence of or even the loss of fathers. However, the problem with this card is not that it is an inaccurate depiction of a huge issue we experience in our community but the fact that it can in no way deal with the systemic reasons behind this phenomenon. By designing this card Hallmark was perpetuating an incomplete narrative of fatherhood in the black community and making a generalized statement without any commentary on how the issue became a reality. This is once again a form of exploitation especially since there were no similar cards in Hallmark's regular line. (of course this has changed.) It is another way that black life is a constructed paradigm in this country rather than a reality to be lived out in all of its diversity. While others have nuanced narratives ours is created, packaged and sold to us to consume as truth. This is our reality and it is once again a way our country continues to show it does not value black life. To place that card on the shelf without any recognition of the structures and systems that have helped to create the reality is to perpetuate a singular narrative of personal responsibility that I see as victim blaming. Now don't get me wrong, I will agree there are some brothers who are making personal decisions that are further damaging the black family structure. However, I am also aware that no one makes decisions in isolation and every decision we make whether helpful or hurtful has a story behind it and a social context from which it is informed. This is what makes those six words on the front of that card both inadequate and extremely problematic.
BLACK PARENTHOOD IS NOT EQUIVALENT
I understand that some people, especially black single moms, may think I am overreacting. They will see this as just a harmless card that is celebrating single mother's, who definitely need to be doubly celebrated. I agree with the sentiment of doubly celebrating single moms but disagree that this card is harmless. What Hallmark has done, on a day when Fathers are to be celebrated, is to drive a further wedge between mothers and the fathers of their children, children and their absentee fathers while perpetuating a narrative that black fathers are not only absent but also expendable. This narrative is not only incomplete but also incorrect! This cards sentiment is only acceptable because black life has been limited to a singular narrative that looks something like this. "A young "baby mama" with four different "baby daddies" none of whom are in the babies lives." What frustrates me the most is not just the incomplete narrative but the fact that if this is the reality of someone's current life circumstances, we as a society look down on them as some sort of an unwanted prototype of black life. Its like were trying to make them feel less human! The fact that this card was only part of the Mahogany line further proves that black parenthood is looked at lesser and our norms as black people in this country are prescribed rather than described. What this means is that the card designer believes they know black parenthood and so rather than observe or interview the black community they can just tell the black family what it should look like.
In America race complicates everything, which is why social issues cannot be addressed apart from an open and honest race dialogue. Black fatherhood and the black family have been under attack since we were forcefully brought to this country. Although the attack has taken many forms and continues to morph with each generation, we are all aware that it has not stopped. With that being said, I would like to say to the Mahogany line of the Hallmark company, creating a line of greeting cards which appeal to black culture in no way confirms your value for black life. Since you have taken on the task of representing our culture in the public sphere you also carry the responsibility of being careful how you represent us. Removing the card from production and shipping was a start but the stragglers still left on shelves are a reminder of the bigger issue, the monolithically degrading way black life is portrayed in this country. To the African American community, we must hold corporations, media outlets and politicians accountable for the way they portray our community. We cannot continue to endorse them by consuming or regurgitating the consistently incomplete narratives of black life often created for us. To every black mother whom, jokingly or honestly, asked, "Where's my gift?" on Father's Day, my answer to you is that you received it in May. I challenge you to read my words not as dismissal of real life family struggles but as a public cry for fathers to truly matter in the family structure. If we keep creating low expectations for fatherhood we cannot continue to be surprised when fathers reach those expectations. I also challenge you to see it as a part of our larger collective cry for black lives to matter in this country.  Before we spend our money with companies, like Hallmark, we need to ask ourselves if the images and language portrayed are an affirmation or an attack on our collective identity.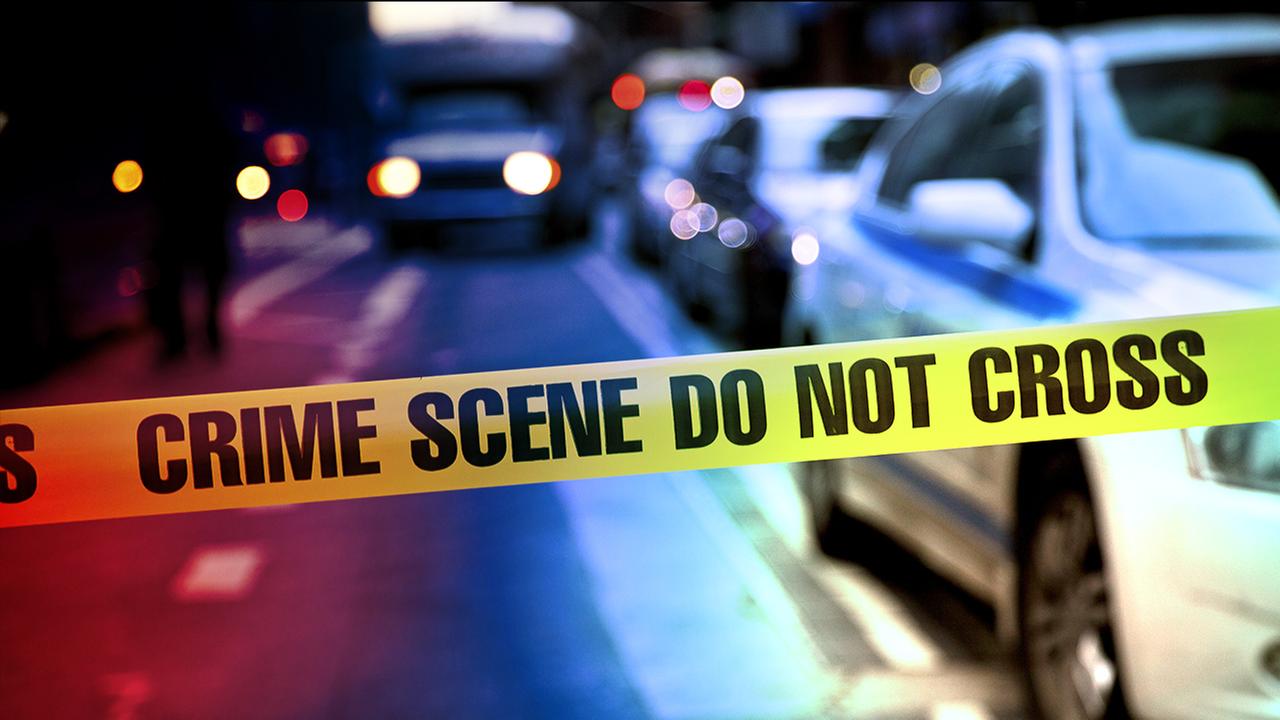 Some Serious Questions about Safety

Those of us who live in inner city spaces often have to ask ourselves some very difficult questions. I can remember when a young wife and mother whom I married and counseled disagreed with her husband about the neighborhood in which they should purchase a home and raise their young family. He grew up on the south side of Chicago and felt like raising his family in the inner city would be a great choice. However, she had grown up on the outskirts of Chicago and with the spike in violence she was worried about raising a family in the city. She wrote a blog asking some very significant questions and because she knew where my wife and I had chosen to raise our families she asked if I would read her blog and let her know what I thought. As she closed out her blog she asked some very poignant questions and they were the same hard questions I asked myself after the shooting in my alley. I have included her questions and my response below. So as a mother, how do I ensure MY children are safe? How do we make sure our family is comfortable? How do we make sure our home is a refuge for us? These questions make total and complete sense!
As parents, when we look into the eyes of our children for the first time, or feel them kick their soon to be mother's stomach we instantly fall in love with them and want nothing more than to protect them from as much pain as possible. In our human mind as well as the mind of society it makes perfect sense for safety to be a top priority. The issue for me is not with safety being important but with the thought that we can keep our families safe and protected from the evils of society by isolating and insulating them from certain places and individuals. I have learned, mostly through experience, that God actually has some different thoughts about safety and what actually constitutes a safe place.
Seeking a Safe Space
In Jeremiah 29:4-7 we find these words written by Jeremiah the prophet to the Jews who found themselves banished to Babylon, the last place on Earth they wanted to live or felt safe. This was tough for them because they had an opportunity to taste the "good life" of the Promised Land and knew what it was like to be in the place they had always dreamed of living. However, God moved them into Babylon and let them know that they were going to be there for quite awhile and therefore should build houses, plant gardens and raise families. He closes the letter with this little bit of advice to Israel. "Seek the welfare of the city where I have sent you into exile; and pray to the Lord on it's behalf, for in it's welfare you will find your welfare.
For me it is in this last promise to Israel that I find much comfort and have been open to understand what I have experienced over the last 10 years of living and raising a family in the inner city. What God is telling us here is that it is not enough to desire safety for ourselves we must actively desire the same thing for everyone else in our community as well. Americans often believe we must work really hard to keep our family, home and children safe and at the same time everyone else must seek to do the same for their own families. However, as we see in this passage Israel is told to seek the welfare (safety) of the city where God sent them because in its welfare (safety) they would find their welfare (safety).
Striving for a Safe Place

I personally (though I admittedly still struggle) have made the decision not to worship the idol of safety and to remember that my life and the life of my children are in the hands of God. However, safety is still a priority but it is the safety of all children not just mine. If I work to make the neighborhood I live in a safer place for all children, then it becomes a safer place for my children! If I pray fervently for the place God has put me than when God answers my prayers all of my community benefits, which includes my family.
So although it is extremely challenging, I have learned that wherever I end up making a home I must actively seek the welfare of that place. I may not always necessarily get to choose the most comfortable place but I can always choose to actively pray and seek the welfare of wherever I live. So the closest thing to ensuring our children's safety is to make sure we are a part of community and resident organizations, work with community assisted policing strategies, volunteer as coaches and mentors as well as find a church that is engaged with the community and wants to see it reflect the glory of God. Train them up well, be honest about the tough things in the world and of course don't put them in harms way intentionally. Do not make decisions to please family members, or for fear of hurting feelings but also be aware just like bullets have no name they also have no zip code.
Settling for No Simple Solutions

Lastly I leave you with a quote that I call living with the Bifocals perspective:
"EVERY PERSON AND EVERY PLACE BOTH REVEAL THE GLORY OF GOD AND THE BROKENNESS OF HUMANITY."

So even if you decide to live outside of the inner city you must pray often for the place you live, because if you do not it is a sign that you do not believe there is brokenness where you live as well. Yes, safety can be a priority but we must not fall prey to idolizing it or forget that our family's safety is actually tied up in the safety of the entire community. So, ultimately, you are not looking to just create a safe space for your children and family you are seeking a safe place for all God's children, which includes your family.
As I pen this blog our community is presently dealing with the news of two young girls, eleven and twelve years old being shot this weekend.  I just found out this morning that one of the girls passed away while the other fights for her life.  I must be honest and say that the trauma children and parents from our communities endure on a daily basis can be overwhelming and there are no easy and simple solutions. However, I am convinced if we give up hope for transformation and turn inward, settling for safety for ourselves rather than seeking peace and welfare for the city,  we will never truly achieve our own welfare.  If you find a safe place for yourself but don't participate in creating a safe space for all are you ever really safe?

SCREAMING AT MY TELEVISION
"Now that's what happens when we come back home!"  On June 19, 2016 I sat in my living room repeatedly screaming these words at my television.  I sat mesmerized watching an elated Cleveland Cavaliers team burst into screams of jubilation while simultaneously feeling a corporate sigh of relief from the entire Cleveland area. For the first time, even as a lifelong Bulls fan, I could not help but feel a special connection with Cavs superstar and homegrown talent, Lebron James. Something happened that evening as I watched him weep uncontrollably, face first on the court it was as if I connected with him in a way I had not previously. It was as if I somehow understood that release of frustration and could relate to the tears of joy. Now don't get me wrong, I am in no way insinuating that my community or neighborhood views me the way the Cleveland area views Lebron! However, I do believe I have had a taste of the joy he was feeling at that moment. The joy of being a part of the corporate flourishing of your community, the joy of persevering when others tell you to give up and the pride that only comes from returning back home even when it is far more comfortable to be somewhere else.
THE "DECISION" IS MADE…
I am not writing this to highlight the championship run by the Cleveland Cavaliers but to speak to the underlying story of a young person of color returning back home for the corporate flourishing of the place that raised them. When Lebron made his polarizing "decision" to leave his hometown for the beaches of Miami we saw the entire city negatively affected and virtually fall apart at the seams. As a society we responded pretty harshly to him and the city as well as we watched them burn jerseys and say really insensitive things. The truth is that many inner city communities around our country constantly experience this same phenomenon just without the pageantry and TV cameras. A large percentage of youth of color are being told directly and indirectly that a return to the communities in which they were raised would be a sign of failure or just far too difficult and therefore, a poor decision. Every year after graduation thousands of students leave inner city neighborhoods with the hope of never returning. Many of them had their "decisions" made for them long before they could form their own based on popular opinion, media input and the desire for comfort at all costs. However, as has been evident in the last few years, a move to a different community or social class does not mean an escape from the struggles associated with being people of color in America.
ESCAPE RATHER THAN INVEST
Most of those who become successful or achieve a level of notoriety after they move away only hear themselves discussed as "survivors" in the context of the communities in which they grew up. We often hear, especially in sports, statements like "you know this person is tough because you have to be tough to make it out of the place where they grew up!" These statements, although not meant to be derogatory, perpetuate the cycle of our communities being viewed as places to escape rather than invest. This leads individuals to see the need to give of their resources but never invest in long-term relationships. Professional athletes often give of their time and resources to the cities in which they play but it is rare to have the kind of connection Lebron does to his city. In his letter to his fans upon returning back to Cleveland Lebron discussed how he saw his time in Miami the same as other young people's four years away in college. He needed some time away to see things differently and to experience life in a new way. He hoped to bring the knowledge and experiences back with him as he worked with those back home to bring forth their corporate dream. I agree that leaving your community for a season or visiting other places can be extremely helpful and during these times you should be rooted and invested completely wherever you are. There are amazing things you can learn while away, I gained valuable lessons and relationships in Alabama during my college years that have been crucial to my work back home. However, please stay attentive to the call and be aware of God's voice for the temptation to escapism is real! Don't fall prey to upward mobile notions of just giving back if you know you feel the call to COME BACK!
LEARNING FROM LEBRON AND CLEVELAND
I know that everyone will not and cannot return to their communities and that there are segments of our population who cannot even relate to the notion of home. Even with those glaring truths, I am confident that their needs to be a clarion call for young people to return to their inner city communities. I understand the frustrations attached to that call but I also invite you to imagine the glorious beauty of being a part of something bigger than you, the desire to ultimately help your communities' dreams become reality and the opportunity to have your wildest dreams imagined as well. It is not easy, it is a long road, and the pressure to succeed is elevated. But just imagine what our neighborhoods would look like if we never lost our most educated, talented, artistic, athletic, technologically advanced, leaders. When you combine our knowledge of the community and ability to navigate unjust systems with the grit, resilience and ingenuity of those who have had to remain then we can see a corporate flourishing in our communities similar to what we saw this year for Cleveland! There are so many great things we can learn from the triumph of Lebron James and the city of Cleveland, however I think many of us may forgot the arduous journey and the perseverance it took to see that corporate flourishing happen. Here are five tough things that those of us who return to our inner city communities can learn from Lebron and Cleveland:
1. EXPECT DISBELIEF
I remember asking myself a few years back, who in their right mind goes back to Cleveland from Miami? It becomes imperative that we listen to the voice of God calling us back to our communities. We must fight against the erroneous dogma that has made our communities places to escape rather than invest. It begins with an accurate view of God and creation. If God created everything and said "It is Good" and never took the statement back even after the entrance of sin, then we must ask ourselves some serious questions. Why can't we remain in our communities and be successful? Who told us we couldn't? Why do we believe them?
2. EXPECT DIFFICULTIES
Lebron was drafted in 2003 and it took 13 years to win a championship and continued victory is not promised moving forward. In the inner city, there are a myriad of systems created to initiate and perpetuate a culture of hopelessness. Therefore, once you begin working you are often fighting against systemic hopelessness from those within your community as well as those on the outside. If you know you have the call back home to an inner city community you should expect to persevere through difficulties and be ready to stay for the long haul.
3. EXPECT DISTRACTIONS
Rumors, bad team relationships, even issues with his own mother at one point all became major distractions for Lebron on this journey. We should all expect distractions especially when we decide to remain around the people who have known us our whole lives, before we grew up and became leaders. There will be plenty of distractions trying to keep you from doing what you are called to do, often more than usual when you are back home because of the strain of already established relationships.
4. EXPECT DISCOURAGEMENT
I can't imagine how discouraging it must have been for Cleveland to lose 2 of their 3 top players and then ultimately the 2015 NBA Finals after being so close. There are so many times you will have moments of victory immediately followed by moments of discouragement. How you handle these moments of discouragement will be crucial to your longevity back home. Tears over broken relationships, frustration over lack of resources, anger over disinvestment all will be reoccurring themes but do not let them define you or make you forget the small victories along the way. Learn to celebrate and record each victory so that you are prepared for your moments of discouragement.
5. EXPECT DIVISON
Immediately after winning the finals the question was asked of Lebron "Now that you were able to got this done how does it make you feel?" His answer to the question was, " I just want to get back home and celebrate with the people of Cleveland. " Ultimately, people will try to cause division, sometimes unknowingly, by making community victories all about you. TV cameras show up, newspapers want a quote from you and people want to come visit your community to "learn" from you. Although none of these are negative activities if not careful they can begin to drive a wedge between you and your community. If you are perceived as someone looking for opportunities to grow their own brand rather than working for the flourishing of the entire community you can quickly lose the equity that comes with genuine relationships. When everything is said and done we want everyone to feel as though they were a part of making community transformation happen.
NBA Opening Day 2016-2017 when the championship banner is raised to the rafters of Quicken Loans Arena it will not say Lebron James, it will say Cleveland Cavaliers. As it should be! Thank you Lebron and the Cleveland community for reminding us what can happen when we go beyond just giving back to our communities and actually come back!
/